Plastic Busters MPAs in the lab: ISPRA
Studying the potential presence of micro-litter in the gastrointestinal tract of the European anchovy
Istituto Superiore per la Protezione e la Ricerca Ambientale
How marine litter can affect this small species widely distributed in the Mediterranean Sea?
The European anchovy, Engraulis encrasicolus, is a small pelagic fish with a short life cycle. Generally, this migratory species occurs along shallow waters forming large shoals. European anchovy is an important commercial species and it is caught mainly by purse seines, 'lampara' nets and pelagic trawls. How marine litter can affect this small species widely distributed in the Mediterranean Sea? ISPRA introduces us to the analyses performedat their laboratories located in Milazzo and at the SZN (associated partner) laboratories located inMessina. The analyzes focues detection of the potential presence of micro-litter in the gastrointestinal tract (GI) of the European anchovy, following the protocol adopted within the Plastic Busters MPAs 'Toolkit for monitoring marine litter and its impact on biodiversity in Med MPAs'.
SAMPLE DIGESTION AND DECOMPOSITION OF ORGANIC MATTER
An alkaline digestion method is deployed in order to decompose the organic matter of the gastrointestinal tract (GI) of the specimen and extract the litter particles. The digestion procedure takes place in two phases:
Phase 1:
The GI of each specimen of European anchovy is added to a solution of 10% potassium hydroxide (KOH) (1:5 w/v).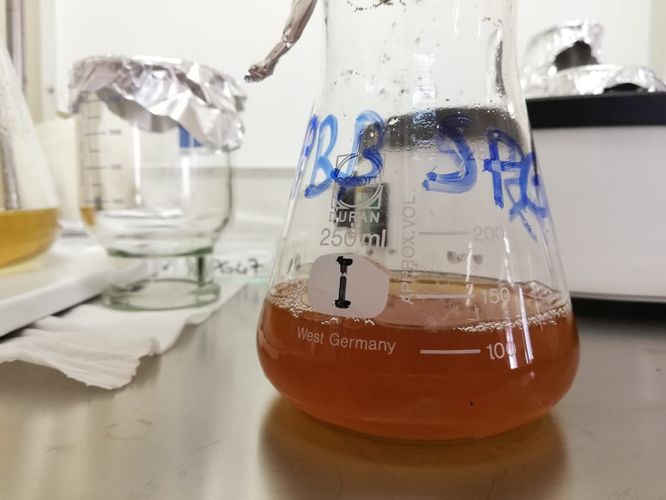 Samples digestion procedure: Phase 1-GI in 10% KOH solution;
Phase 2:
The sample is incubated in a thermostatic bath (50 °C) for about 6 hours and then left overnight at room temperature.
Phase 2- Thermostatic bath
Litter particles extraction
Once the digestion procedure is completed, the sample is, first, filtered through a metal sieve with a 300 μm mesh size in order to retain the larger particles and then the sample is filtered with the use of a filtering apparatus connected to a vacuum pump, through a glass fibre filter with a 1.6 μm mesh size to extract the smaller particles.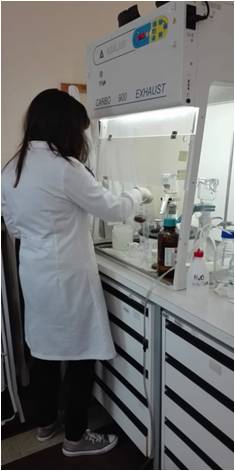 Metal sieve above the filtering apparatus
Glass filter seen from above
Litter particles detection
The metal sieve is placed under a stereomicroscope in order to check it for the presence of litter items, while the glass fibre filter is stored into a Petri dish and left to dry overnight in room temperature. The day after, the glass fibre filter is examined under the stereomicroscope as well.
Observation of the metal sieve under stereomicroscope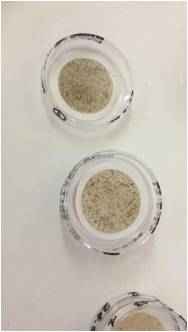 Glass filters stored in Petri dishes
Litter particles analysis
Each litter particle is counted and photographed while its length, weight, colour and shape are recorded. For 10% of these particles Fourier Transform Infrared Spectroscopy (FTIR) analysis is applied in order to identify the type of polymer the litter particles are made of in order to determine their origin (i.e. synthetic polymers).
FTIR spectra and associated findings related to the polymer a particle is made of.